The benefits of cannabis as medicine may still be hotly debated among politicians, but the millions of people who have seen their symptoms lessened — or alleviated completely — will argue that there is no question. As the number of states that have legalized pot for medical use indicates, acceptance...Read More »
---
Cannabis has been shown to be an effective treatment for many disorders, conditions, and diseases. Certain conditions, such as epilepsy, are making leaps and bounds in symptom reduction by the use of cannabis. Cannabis comes in many different forms and there are a variety of ways for it...Read More »
---
By Gage Peake
Glioma, a cannabis-based drug made by GW Pharmaceuticals, has achieved positive results in recent testing. Patients with a certain type of brain cancer who were given the drug, a combination of THC and CBD, have seen significant increases in life.
UK drugmaker GW Pharmaceuticals announced it has...Read More »
---
By TEGNA News
After years of harsh marijuana laws, 83% of Texans now support some form of legal marijuana, a new poll shows. Marijuana in Texas, especially for medicinal use, may be beneficial to many patients in the state.
Anthony Abba looks like almost any other 9 year-old-boy, bouncing on...Read More »
---
By Culture Magazine
Canada recently completed one of the first major studies on the connection between substance addiction and marijuana. The study found that cannabis use can aid in reducing tobacco dependency, as well as user dependency on alcohol and painkillers.
Canada recently concluded a study on the benefits of medical cannabis...Read More »
---
By Lisa Rough
Incorrect information about the claimed dangers of cannabis has been removed from the US DEA agency's website.
In a remarkable about-face, the US Drug Enforcement Administration on Monday removed inaccurate information about the purported dangers of cannabis from the agency's website.
The change came after the nonprofit...Read More »
---
By Kathleen Curthoys
A clinical trial has begun in order to determine the safety and effectiveness of using cannabis to manage PTSD symptoms in U.S. veterans.
The first participant in a clinical trial designed to evaluate the effectiveness of smoking marijuana to treat PTSD in veterans was given cannabis on...Read More »
---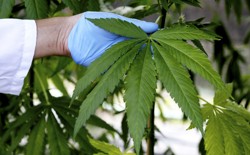 By Sarah Zhang
Observed studies have shown that states that have legalized medical marijuana have also seen a decrease in painkiller prescriptions, opioid use, and opioid overdose resulting in death.
James Feeney, a surgeon in Connecticut, heard it from his patients. A few actually turned down his prescription...Read More »
---
By Kevin Loria
Medical marijuana is most commonly sought out for pain. According to a recent report released by the National Academies of Sciences, Engineering, and Medicine (NASEM), there is substantial evidence that cannabis or cannabinoids can be an effective treatment for chronic pain.
The most common reason that people seek out...Read More »
---
By Kevin Loria
Abstract: The National Academies of Sciences, Engineering, and Medicine (NASEM) has released an up-to-date look at what all available research on cannabis tells us.
The change in attitudes toward cannabis and in legal access to marijuana around the US over the past several years is staggering.
As of last fall,...Read More »
---
By Agata Blaszczak-Boxe
ABSTRACT:
While much more research is needed, a recent case regarding a Canadian man with oral cancer shows that cannabis oil may help to heal/lessen wounds. One reason the oil might aid in wound care is the reduction of inflammation.
A middle-aged man in Canada with oral cancer found...Read More »
---
By Gregory L. Smith, MD, MPH
ABSTRACT:
Recent articles on medical cannabis suggest it is not ready for prime time. The history of marijuana use in the US reveals that medical marijuana research and clinical use has been in a classic Catch 22 for decades. The dearth of research on the topic...Read More »
---
By Kevin F Smith, MD., MPH
ABSTRACT:
Synthetic cannabinoids are not synthetic marijuana nor a legal form of marijuana.  Their use has been associated with an increasing severity of illnesses and adverse effects which directly impacts the younger population and increases the number of emergency department visits.  The use of these products...Read More »
---
By Gregory L Smith, MD., MPH
ABSTRACT:
This article will seek to provide an historical overview of the Marijuana plant, its role throughout history, and how it has come to play a significant role in the present day as a medicinal aid in the arsenal of a Physician's tools of practice....Read More »
---